Perfect Party Supplies
Shop our selection of party supplies. You have come here looking for the perfect party game, stay awhile and choose from hundreds of perfect supplies to compliment the event.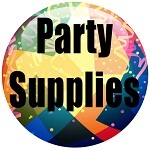 Perfect Party Games is here to help you decorate for all of life's occasions. If you are planning a big event, a family reunion, a bridal shower...this is the place to shop!
Birthday parties, baby showers, anniversary parties, over the hill birthday parties...we have all the supplies, decorations, and party favors for all these special days. Holiday parties and theme parties can easily be decked out as well.
Maybe you are looking for some gag gifts, we have some fun ones to choose from.
Take a peek into our shop and purchase all the supplies you need. They will be delivered to your door, which makes one less thing to worry about while planning for the big day.
Shops Available
50th Birthday Party

Frisbee Game Supplies

Board Games

Your Party Supply Checklist
Of course, there are as many different things you might need at your party as there are different parties. Here is a run down of the basics. Pick and choose the items you most want that fit in your budget.
Start with a Guest List
Party Invitations
Stamps

Decorations - Outside
Balloons
Banners
Directional Signs
Welcome Sign
Party is Here Sign
Luminaries

Decorations - Inside
Party Announcement Banners
(for example "Happy Birthday" or "Congratulations")
Garland
Balloons
Ribbon/curl
Streamers/crepe
Hanging Decorations
Pinata
Confetti

Table
Table Covering
Centerpiece
Place Cards
Salad/Dessert Plates 7"-8"
Dinner Plates 9"-10"
Bowls
Forks
Knives
Spoons
Hot Cups
Cold Cups
Specialty Glasses (for champaign or wine)
Dinner Napkins
Beverage Napkins
Straws
Placemats
Serving Supplies
Ice Bucket or Chest
Food Warmers
Cake Server
Serving Bowls
Serving Trays
Serving Utensils
Punch Bowl and Ladle

Party Favors
Hats
Noisemakers
Favor Bags/Loot Bags/Goodie Bags
Prizes
Candy
Favors that match the party theme

Miscellaneous
Candles
Thank You Cards
Sign in book or poster

After choosing from the many options, be sure to have the tools necessary to install or hang the decorations, such as a hammer, helium, tape, etc.
---
Go from Party Supplies to Party Games Index