Christmas
Murder Mystery Party -
Murder on Elfkin Island

Summary: This Christmas Murder Mystery Party game is named Murder on Elfkin Island and it's a murder mystery dinner party game played with Elf's as the theme.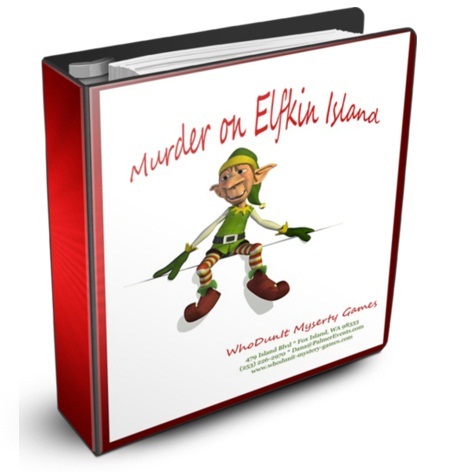 There are four Elf Tribes that meet together as a Federation. After a week of elections for Grand Pooba and Commissioners, one of the Elf's is murdered. You must study the motives, clues and suspicious behavior of each character to solve the mystery.
One might think this Christmas murder mystery party game can only be played around Christmas, but not true. One of the four Elf Tribes is of course the Christmas Elf's, but there are also the Shoemaker Elf's, the House Elf's and the Keebler Elf's. So this game can be played during all seasons.
The plot is of average complication, not too hard to solve, but it does make you think!


Ages:
This murder mystery was written for players twelve years of age and above. You can trust that there are not inappropriate scenarios that would make you uncomfortable to play with youth. There is mention of an illegal form of chocolate and one of the characters does get killed, so that might make this game rated PG if it were a movie.
Recommended Number of Players:
You will need 17 players for this game. There are 10 male parts and 7 female parts. One of the 17 characters is also the Host and knows everything about the mystery. If the Host did not want to play a part at all, but simply make sure the evening was running smoothly, then 18 total people could be involved.
Table of Contents
You will receive 73 pages of easy to read instructions and templates. The Master Templates section includes everything needed for the party, including invitations and name tags.
CHAPTER ONE: Overview
Summary
Recommended Ages
Number of Players
Using this Manual
Historical Background
CHAPTER TWO: Details
Menu
Costumes
Role of Host
Getting to Know the Elfs
CHAPTER THREE: Guests
Save the Date
Assign Characters
Invitations
CHAPTER FOUR: Prior Arrangements
Name Tags
Suspicious Behaviors
Banquet Program
Homeland Signs
Evidence
Clue Markers
CHAPTER FIVE: Order of Play
Mix and Mingle
Homeland Meeting
Staging the Crime Scene
Banquet Served
Suspicious Behaviors Revealed
Mystery Solved
Special Musical Number
Presentation of the Banquet Cookie
CHAPTER SIX: Master Templates
What Everyone Knows
Character Sketches
Costume Examples
Invitation
Name Tags
Suspicious Behaviors
Banquet Program
Homeland Meeting Signs
Clue Markers
What Really Happened
Murder on Elfkin Island was written by Dana Palmer for a family reunion and played on New's Years Eve. It was a fun way to ring in the new year and get to know each other a little better. Letting family and friends play a character other than themselves can be quite revealing. Try throwing this Christmas Murder Mystery Party and see what you learn about your guests that you never knew!

Comments, Variations and Stories
Do you have a great story about playing a game listed on this site? Are there variations of the game you would like to share? Tell us!